Raising a glass to one year of Mr. L's Cocktails!
It's been one year since Mr. L's Cocktails launched into the Irish RTD cocktail market, and what a year it's been.
The expanding range of ready to drink, premium cocktails are mixed with the finest quality ingredients and spirits, under the keen knowledge and expertise of Paul Lambert. Widely regarded as one of Ireland's most prestigious mixologists, Paul has brought to the market the best of the best in pre-mixed, bottled cocktails with an initial range of four flavours: Pina Colada, 1930's Cosmo, Whiskey Sour, P*rnstar Martini, and now – the Espresso Martini.
In Paul's 30 years of experience, he has an extensive list of achievements and accolades under his belt. Paul placed 3rd in the World (yes, third in the world!) at the Dekuyper Cocktail World Cup, 3rd in Europe at the IBA European Championships, and he was also credited with making the finest gin martini in the world at the Bacardi Martini Grand Prix. Not only has Paul built up an impressive collection of awards, but he has also established some of the most popular cocktail bars in Dublin including Diep, SABA, Kinara Kitchen and the Blind Pig Speakeasy. The delicious range can be used by both cocktail novices and experts alike; simply chill, pour, shake and serve to enjoy.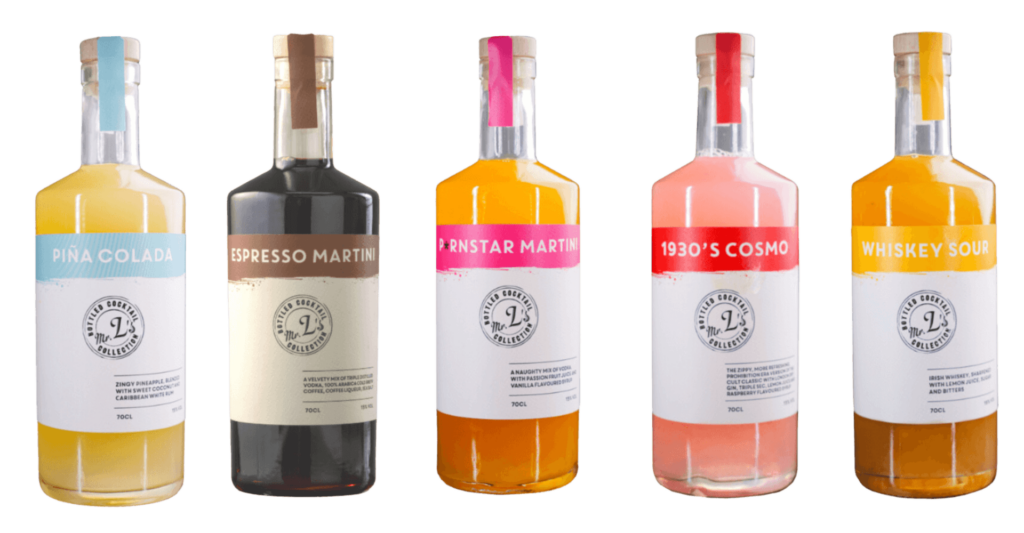 What's on the menu?
Espresso Martini:
A velvety mix of triple distilled vodka, 100% Arabica cold brew coffee, coffee liqueur and sea salt – a must-have on any cocktail menu. Up there with the most luxurious cocktails, our Espresso Martini has a velvety texture and a rich flavour that's sure to impress. Ingredients: Triple distilled vodka, 100% Arabica cold brew coffee, coffee liqueur and sea salt. ABV: 15%, 70cl.
1930's Cosmo:
A prohibition era version of the cult classic, the 1930's Cosmopolitan is served as the classic version of its modern day counterpart. Using gin in place of vodka, raspberry instead of cranberry and lemon rather than lime, this recipe was discovered in a 1930s cocktail book and has become the favourite serve in exceptional cocktail bars. Ingredients: Fruity raspberry complemented by zingy lemon mixed with triple sec and London Dry Gin. ABV: 15%, 70 cl.
Pina Colada:
Sharp zingy pineapple, blended with light and refreshing coconut pulp and smooth white rum. This cocktail transports you to a beach on a tropical island. Inspired by a trip to Puerto Rico – and a Pina Colada demonstration at the Bacardi distillery – this cocktail was born out of the idea of using only pure, fresh ingredients. Ingredients: Coconut water, fresh pineapple juice, white rum. ABV: 15%, 70 cl.
Whiskey Sour:
One of the icons of the cocktail world, having featured in the 1st cocktail book back in 1862, this was a must have in the collection. The omission of egg white is a bonus for allergy sufferers but can be added to enhance this serve for those that enjoy that texture. Ingredients: Smooth Irish Whiskey sharpened with lemon juice, sugar and bitters. ABV: 16%, 70cl.
P*rnstar Martini:
Created by Douglas Ankrah in London in the 90s. This classic serve is a favourite of cocktail consumers. Serve with a prosecco shot (to be consumed alongside the flesh of a passionfruit garnish) to cleanse your palate before enjoying the flavour bomb in the glass. Ingredients: Sweet vanilla, sharp passionfruit juice and smooth vodka. ABV: 15%, 70 cl.
And there's even more to come, so be sure to watch this space!
To keep up with everything Mr. L's Cocktails, including news of brand new flavours, check out Instagram, Facebook and TikTok.