Jack Ryan
Six generations of Ryans, Dublin's award-winning Independent Finishers and Bottlers of fine aged Single Malt Irish Whiskey, crafted in the growing repertory of Ryan Casks – virgin oak, bourbon, calvados, madeira, rum, sherry, craft IPA, stout and more. Available in participating quality whiskey circles. Jack Ryan 12YO, Jack Ryan Generation Trilogy (Toomevara, Haddington, Finisher's Touch), Ryan Cask Elite Finishes (release #1 – Finca Museum Rioja)
Launch Website

JACK RYAN SINGLE MALT - 12 Year Old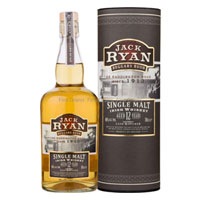 12 Year Old – Jack Ryan Single Malt Irish Whiskey 46% has been aged for 12 years, with no chill filtration, allowing the true flavours of the whiskey to be retained. The Whiskey has been matured in ex-bourbon barrels hand-picked by the family themselves, to deliver a unique taste. The golden amber glow and nose of sweet, oaky vanilla, sets you up for a delicious mouthful of silky, honey sweetness with a long, warm- hearted, lingering, spicy finish. Irish Whiskey Award and Gold Medal San Francisco World Spirits
Launch Website
The Generation Trilogy
The Generation Trilogy celebrates 6 generations of the Ryan family, from 19th century John in Walker's Limerick Distillery, on to Michael – Toomevara Tipperary farmer and Birch's Roscrea Distillery manager – on to vintner Thomas setting up his finishing business in 1913 on Haddington Road Dublin, to the eponymous Jack himself, who honed the finisher's touch, and now son and scion Eunan, with today's award-winning Jack Ryan Whiskey Co.
Toomevara - 10YO Finished In Château du Breuil Calvados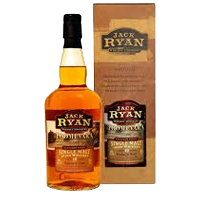 Toomevara, the first of the Generation Trilogy, 3,500 numbered bottles signed by Eunan Ryan, abv 46%, award-winning 10YO Single Malt, aged in bourbon, finished in Château du Breuil calvados, first part of The Generation Trilogy, released in 2018. Colour; gold mellow yellow. Nose; dry and yeasty stewed apple warmth, sour green apple gummies, and the leafier tang of green apples, with orange cream soda. Palate; apple pie in a glass, soft cinnamon, a light zesty tang. Finish; sandalwood edges round the lingering sauce, dusty, dry, even a little yeasty.
Haddington - 11YO Finished In Old Rum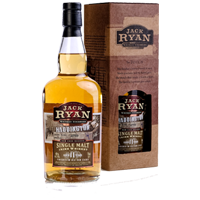 Haddington, the second of The Generation Trilogy, commemorating the Haddington Rd Dublin beginning of Ryan whiskey finishing, 3,500 numbered bottles signed by Eunan Ryan, abv 46%, aged in bourbon, finished in old rum. Colour: deep Marmalade. Nose; cinnamon, ginger, and a light pinch of nutmeg over a bowl of brown sugar. Palate; golden brown, texture like sun, Demerara sugar, warm maple syrup. Finish; old dusty floorboards, gingersnap biscuits, and ginger keeping our brown sugar spry
Finisher's Touch -12YO Finished In Justino's Madeira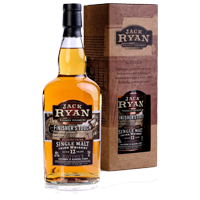 Finisher's Touch completes The Generation Trilogy, and marks Jack Ryan's honing of the craft of whiskey finishing, 6,000 numbered bottles signed by Eunan Ryan, abv 46%, aged in bourbon, finished in Justino's madeira. Colour: bumblebee gold. Nose: clean orange sweetness, quirky wood sugars, ode to orange in notes of bark, marmalade, tannin. Palate: clean clementine, tangerine, blood orange, leaf and tannin counter-note seamless, with water a pithier drop. Finish: pendulum swings from oranges to trees and leaves, dryness makes the sweet citrus linger, water adds a lingering tang.
Ryan Cask Elite Finishes
Single cask, reserved and cask strength releases – 200 or so bottles each - finished in various Jack Ryan repertory casks, classic and eclectic
Releases #1 – Finca Museum Rioja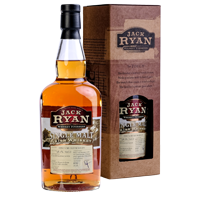 Finca Museum Rioja, first release in the series Ryan Cask Elite Finishes, a 12 YO aged in Bourbon, finished in an exceptional single Finca Museum cask sourced from Cigales Spain, crafted to a carmine-gold beauty in the Jack Ryan Malt Finishing Hall, 275 bottles, 70 cl CS 57.5% abv, numbered and signed by family scion Eunan Ryan. Colour: Carmine Nose: Red wine and sap. Strawberries and moss. Orange peel, oak, and above all blackberries. A resinous twitch. Palate: Sap grass and sugar cane cut through the plushness of raspberries, prunes, and the red wine backdrop. With water, a plusher profile altogether with apricots, peaches, and something slightly tropical. Finish: Fruit takes back the mouthfeel with a juicy flush of berries, grape soda, purple syrup and grass. After that, a longer dustier linger of cinnamon, oak, and still grass-cut honey. With water, the orange peel gets confident and the apricots from the palate get a slice of the linger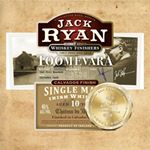 Jack Ryan Whiskey
maturation, finishing, bottling malt – 6 generations – whiskey & casks, sourced, married & watched over with a finisher's touch