Slingsby Gin
Since 1571, when William Slingsby discovered the unique properties of natural spring water from the Tewit Well in Harrogate, discerning individuals have sought out the picturesque Yorkshire town to restore body, mind and soul by relaxing, indulging and socialising. Slingsby did things differently, thought differently and had a vision that others considered to be extraordinary or even, a little odd; he epitomised the Spirit of Harrogate. Made with the finest natural and locally sourced botanicals, Harrogate aquifer water and pure single grain spirit, we are proud that our unique London Dry Gin bears his name.

Slingsby London Dry Gin, 70cl, 42% vol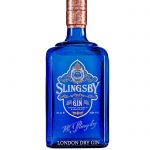 The finest locally sourced botanicals, Harrogate aquifer water and pure single grain spirit deliver a burst of citrus and grapefruit. This gives way to juniper, sweet cicely and Taylors of Harrogate jasmine scented green tea. Enjoy with a premium tonic water on ice, with a twist of grapefruit peel and fresh blueberries.
Slingsby Rhubarb Gin, 70cl, 40% vol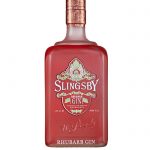 Masterfully infusing our London dry gin with the finest Yorkshire rhubarb results in an initial sweetness of rhubarb and raspberry. A bitter tang of the pink grapefruit citrus base leads to an unforgettably tart flavor on the palate. Enjoy with premium elderflower tonic water, on ice with a raspberry to finish.
Slingsby Gooseberry gin, 70cl, 40% vol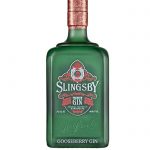 YORKSHIRE GOOSEBERRY 70cl Abv 40%
Slingsby Gooseberry gin is crafted using the world-famous Harrogate aquifer water, pure single grain spirit and locally sourced botanicals synonymous with the restorative nature of the town. Yorkshire gooseberries bring an unmistakable tangy sharpness, tempered with a fruity sweetness whilst retaining the classic citrus notes of our classic award-winning London Dry Gin.